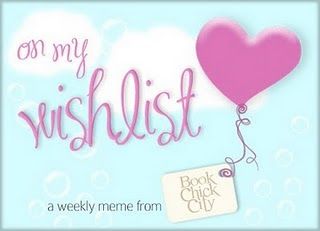 Toto meme pořádá
Book Chick City
. Cílem je, každou sobotu uveřejnit několik knih, které bychom si chtěli pořídit.
Můžou to být jak starší tak i ty novější knihy, či knihy vycházející v budoucnu.
Na tuto sobotu jsem si vybrala:
Panika začala jako spousta věcí v Carpu, nudném malém městečku uprostřed ničeho - protože bylo léto a nebylo co dělat. O co v téhle hře jde? Je to prosté. Nemít strach.
Heather nejdřív ani nenapadlo, že by se do Paniky pouštěla. Nikdy by si nepomyslela, že je nebojácná a že by chtěla vyčnívat. Ale pak zjistí, že je tu něco a někdo, pro koho stojí za to bojovat, a je statečnější než kdy dřív. V sázce je příliš mnoho, ovšem výhra stojí za to, tolik peněz by jí umožnilo navždy opustit nenáviděné město a nechat starou Heather za sebou, pohřbenou v prachu.
Dodge se Paniky nikdy nebál, právě naopak. Pohání ho jeho tajemství, díky němu hladce prochází každým dalším kolem a je si sám sebou jistý. Ví, že vyhraje. Ale netuší, že není sám, kdo má tajemství. Všichni mají nějaký důvod proč hrát.
Heather a Dodgovi přinese hra nová spojenectví, překvapivá zjištění a možná i nějakou tu první lásku - a vědomí, že někdy nejvíc potřebujeme právě to, čeho se k smrti obáváme.
Můj názor:
Laren Oliver je jednou z mých velmi oblíbených spisovatelek a každou ze svých sérií si to u mě víc a víc potvrzuje (Chvíle před koncem, Delirium...), takže se těším i na tuhle její další sérii, která se v knihkupectví dokonce už nachází. Prošla jsem kolem ní snad už třikrát, ale pořád jsem se nedostala k tomu si ji koupit.Anotace mi přijde zajímavě zvláštní - sama netuším, jak si mám příběh představit, jestli je hra jen hrou, nebo se v ní ukrývá i něco nebezpečného...